SmartNews
Denver Broncos to hold moment of silence following mass shooting
The Denver Broncos said in a tweet they will hold a moment of silence "remembering the lives lost" ahead of their game against the Las Vegas Raiders on Sunday.
"Our hearts go out to the victims of the senseless act of violence that occurred last night in Colorado Springs," the team wrote. "There is no place for hate, and we stand with the LGBTQ+ community and all impacted."
Photos: People mourn outside Club Q following mass shooting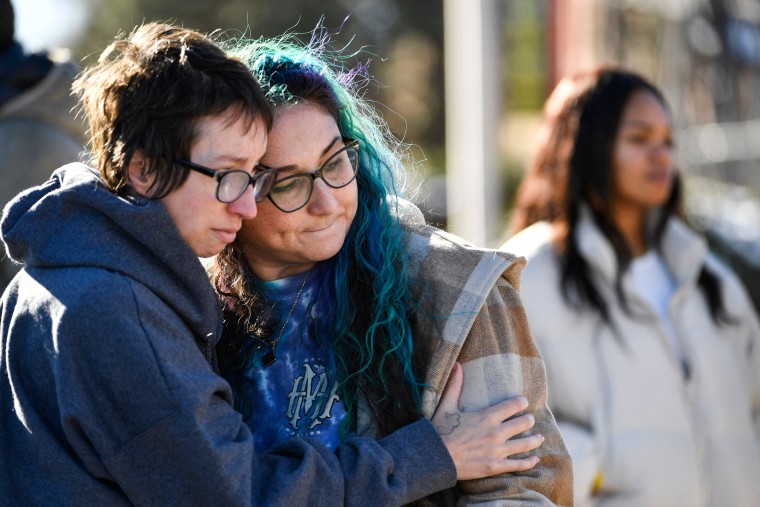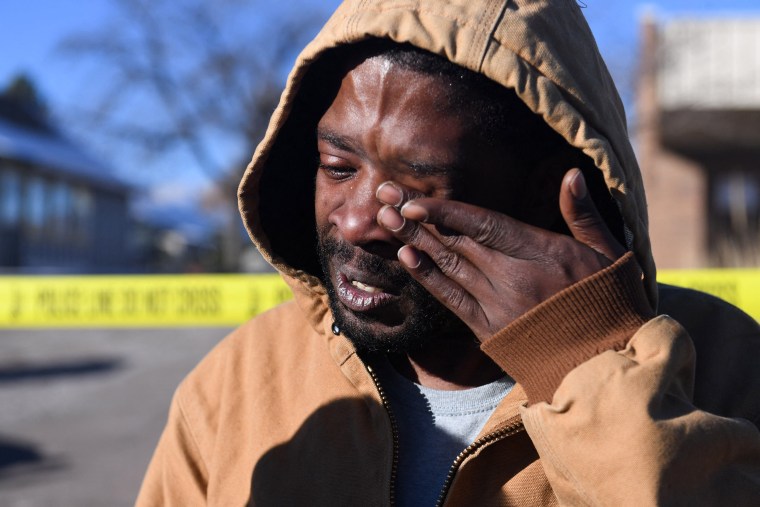 Jared Polis, first gay man elected governor in the U.S., has been a vocal critic of attacks on LGBT people
Colorado Gov. Jared Polis, who won re-election earlier this month, was part of the so-called rainbow wave in 2018 — referring to the record number of LGBTQ candidates who ran for office in that year's midterm elections. He is the second out LGBTQ person to be elected governor of a state, after Gov. Kate Brown of Oregon, a Democrat who identifies as bisexual, was first elected in a special election in 2016.
During Polis' first gubernatorial run, his sexuality played only a small role in his run for governor, and he has said in past news interviews that he found Colorado voters to be more concerned with kitchen-table issues.
Though his campaign focused largely on delivering more government services while continuing to grow Colorado's booming economy, he has since become a vocal critic of the rise of attacks on the LGBTQ community in recent years.
"Today Colorado took an important step forward in recognizing our diversity as a strength," Polis told NBC News in an emailed statement when he signed the 2019 bills. "These bills truly underscore the idea that Colorado is a state where everyone can be their true selves and live the life they want."
At least two in critical condition, hospital officials say
The shooting victims were split between three hospitals, Centura Penrose, UCHealth Memorial North and UCHealth Memorial Central, said Colorado Springs Fire Chief Randy Royal.
Penrose Chief Medical Officer Bill Plauth said seven people were in their care, including two in critical condition and two who had already been discharged.
Another 10 patients were under the care of UCHealth Central, said its Chief Medical Officer David Steinbruner. "We have several people who are being taken care of in our ICU," he said, without specifying the exact number of those in critical condition.
An additional two patients were being treated at UCHealth North, said Royal.
Shooter began firing immediately after entering club, police chief says
The suspected gunman in the Colorado Springs mass shooting began firing immediately after entering Club Q, said Colorado Springs Police Department Chief Adrian Vasquez.
At least two people subdued the attacker and prevented him from shooting more people, Vasquez said at a news briefing.
"Whether this was a hate crime remains a part of the investigation," Vasquez added.
Club customers subdued gunman, officials say
Two people subdued the gunman who opened fire at Club Q, a Colorado Springs LGBTQ nightclub, late on Saturday, saving lives, officials say.
"While the suspect was inside of the club, at least two heroic people inside the club confronted and fought with the suspect and were able to stop the suspect from continuing to kill and harm others," said Colorado State Deputy Chief Adrian Vasquez at a news conference Sunday morning. "We owe them a great debt of thanks."
Colorado Gov. Jared Polis, who in 2018 was the first openly gay man elected governor, said "brave individuals" stepped in during the "horrific, sickening and devastating" shooting.
"We are eternally grateful for the brave individuals who blocked the gunman likely saving lives in the process and for the first responders who responded swiftly to this horrific shooting," he said in a statement issued Sunday morning.
Officials name suspect in Club Q shooting
Police on Sunday named the suspected gunman in the Club Q nightclub shooting as Anderson Lee Aldrich, 22.
Officials said that two people in the club had subdued Aldrich, who was believed to be carrying two weapons, one of them a long rifle. He was injured during the attack and was under arrest.
Police did not provide details about his injuries.
Mondaire Jones, one of first gay Black men in Congress, 'outraged'
Rep. Mondaire Jones, D-N.Y., one of the first gay Black men elected to Congress, tweeted that he was "outraged" by the attack on an LGBTQ nightclub in Colorado Springs.
"I'm praying for the loved ones of those lost, and wishing those injured a quick recovery. The perpetrator must be brought to justice," he wrote Sunday morning. "Members of the LGBTQ community deserve to live full lives."
Sen. Hickenlooper: Nightclub shooting an 'unspeakable act'
The Colorado Springs nightclub shooting is an "unspeakable act," Sen. John Hickenlooper, D-Colo., tweeted Sunday morning.
"Horrendous to hear about the shooting at Club Q in Colorado Springs. An unspeakable act. We have to protect LGBTQ lives from this hate," he wrote.
Lawmakers across the state joined him in condemning the attack.
"I'm thinking of all victims and their families, & will continue monitoring the situation," Rep. Jason Crow, D-Colo., tweeted. "My heart is with our LGBTQ+ community as we all reel from this violence."
"We have so much work to do to stop this from happening again," Rep. Judy Amabile, a Democratic state lawmaker who represents Boulder, tweeted.
Rep. Lauren Boebert, R-Colo., a vocal gun rights advocate, called the shooting "absolutely awful," The New York Times reported.
"This lawless violence needs to end and end quickly," she said, according to the newspaper.
Meanwhile, Rep. Mondaire Jones, D-N.Y., one of the first gay Black men elected to Congress, tweeted that he was "outraged."
"Members of the LGBTQ community deserve to live full lives," he wrote.
And Rep. Adam Schiff, D-Calif., tweeted that he was "sickened and horrified."
"The LGBTQ+ community is once again the target of the most terrible violence," he wrote. "And devastating attacks like these will only become more common if we don't fight back."
Colorado governor commends 'brave individuals' who blocked gunman
Colorado Gov. Jared Polis called Saturday's attack on an Colorado Springs LGBTQ nightclub "horrific, sickening and devastating," and commended the the "brave individuals" who stopped the shooter.
"My heart breaks for the family and friends of those lost, injured, and traumatized in this horrific shooting," Polis, the first openly gay governor of a U.S. state, said in a statement. "We are eternally grateful for the brave individuals who blocked the gunman likely saving lives in the process and for the first responders who responded swiftly to this horrific shooting." 
'Sickened and horrified' by Club Q attack, Schiff says
Club Q thanks 'quick reactions of heroic customers'